In a world that's fueled by consumption and always reaching for the newest, most popular thing, it can be difficult to find happiness with preloved items.
There are a few things that many people don't know about the process of buying pre-owned items and often find it unconventional.
However, according to statistics, the used goods market in the United States is sized at $17bn with around 76,052 flourishing set-ups.
Yard Sale brings garage sales and marketplaces to your fingertips. You can now buy and sell stuff on our virtual garage app within the comfort of your home. Download our app to get started!
Here's what you should know about preloved shopping:
#1 – Preloved ≠ Poor Quality
Many people perceive preloved goods as being second rate, which is far from the truth.
There are plenty of reasons why someone may be selling their items that have nothing to do with them being sub-standard quality; perhaps they bought too many items for a short period, or they just don't suit anymore!
It could also be that you simply didn't like how it looked once you got home. Either way, if something has been passed down by at least one other person, there's nothing stopping it from being totally worth your investment!
#2 – Save $$$
It's no secret that the average person spends over $161 on clothing per month, which would amount to around $2,000 a year.
If you could buy one preloved item instead of brand new every week for a year, you'd save nearly half of it and most likely get a unique item, too.
As long as you're buying from a trusted garage sale app like ours, be sure that each piece is good quality and should last you long.
#3 – Save Time
If you're anything like the average woman, chances are that much of your time is spent browsing through pictures of clothing on online sites trying to be sure if it will match.
However, with preloved items, all pictures posted are taken by hand without photo editing software and the flashy studio lights so you can be sure what you're seeing is exactly what you're getting.
Rather than strolling shop to shop, you can find a bunch of items in one place on our virtual yard sale mobile application.
#4 – Find Timeless Pieces
Unlike items bought from fast fashion stores, you can be sure you won't see ten other people wearing the same outfit as you walk across the street.
You can find real steals at garage sales and get your hands on antiques and items that are unique and timeless.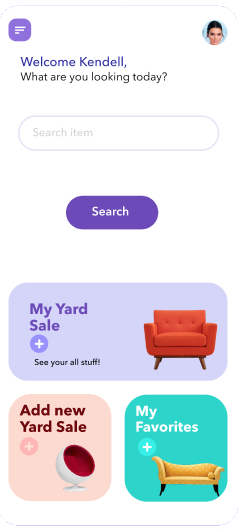 About Us
Yard Sale is a virtual yard sale app that lets you buy and sell items with ease.
The app has been designed to make the process easy and convenient for homeowners, allowing them to post their goods and buy other's goods without ever having set foot in front of an open field or garage.
Download now on Google Play or App Store.