A cluttered and disorganized home can leave us feeling frustrated, stressed out and even suffocated.
We live in a world where we are constantly being pulled in every direction. Home life, work life, social media, and all the other distractions that come with it. It can be difficult to find time to maintain your home.
Additionally, while we'd all love to organize our homes, not everyone is a Virgo and has a knack for it.
We've introduced a virtual garage mobile application to help you get rid of extra stuff. You can now buy and sell stuff with great ease and speed. Download our app to get started!
Cut your time cleaning and organizing with these smart strategies:
#1 – Create a Junk Mail/Paperwork Station
Instead of letting mail pile up on tables or counters where it can easily be forgotten about, designate an area for all incoming paperwork that is both centralized and easy to access.
This could be anything from a box by the front door for mail to a desk drawer.
#2 – Use Secondary Containers
One way to hide household clutter is with decoration and neat toy storage solutions.
Instead of allowing books to pile up in the living room, purchase stylish baskets that you can use as bookshelves but that double as storage devices when they are empty. This same concept can be applied everywhere, from the kitchen to the bedroom!
#3 –Pick Clothes Off the Floor
Hanging clothes up as soon as they come out of the dryer or off the washer will help keep them from getting wrinkly, but it will also reduce your chances of tripping over them.
Just because it's easy to forget about something lying on the floor doesn't mean that it is easy to clean up quickly when a guest comes knocking at the door.
#4 –Create Storage Bins Under the Sink
If you currently use your under-the-sink cupboard space to store things like cleaning products, simply put them in storage bins or containers.
If not, then spend 5 minutes organizing this area. You will be surprised at how much you can fit in there, and won't have to buy more.
#5 – Label Everything
This may seem like a simple step, but it is one that many people skip for various reasons.
Labeling your food containers with what it contains, along with the date you opened it, will help keep the same things from happening over and over again.
It will also reduce your lunchtime stress by allowing you to quickly grab something healthy every morning before work, so you don't need to resort to eating out every day!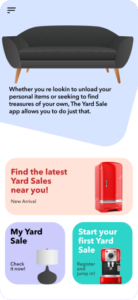 #6 – Think Outside the Box
Declutter your home, get rid of extra items and put up the items for sale on our virtual yard sale app.
Find local yard sales and sell your stuff on our local garage app without stepping out of the house.
Download it now on Google Play or App Store and display your products at just 99 cents each.