Minimalism is all about living a simple life. Imagine returning from home after a super-tiring day at work only to be welcomed by the sight of a messy and cluttered home. We know that's not the ideal situation to be in. On the other hand, a clean home without clutter brings peace to your life.
However, in recent times we've seen many people criticizing minimalism. Let's look at some of the common criticisms of the minimalistic lifestyle.
'Minimalism Is Only For The Rich'
Many people argue that minimalism is only for the rich. However, they fail to provide any evidence for their statements because minimalism is a lifestyle that can be adopted by anyone regardless of their income. Minimalism helps promote the culture of saving money, which is crucial for both the rich and the poor—the rich need to save money for investments, while the poor need it to fulfill their necessities. Moreover, selling off house items in a garage sale promotes minimalistic behavior and can also help a family in financial turmoil, reinstating the fact that minimalism is not just for the rich.
'Minimalism Is Selfish'
Critics argue that minimalists are selfish and only buy products for themselves. A suitable response to this criticism is that minimalists arent is selfish as their behavior is not only beneficial for them but for the environment too. Critics often ignore that minimalists can reduce their carbon footprint by buying fewer products and consuming less fuel which can ultimately help the environment.
'Minimalism Is Boring'
While some people may feel that having fewer goods can make your life boring, it's no secret that a minimalistic lifestyle helps bring peace and calmness into the house. A house with a minimalistic interior can be an excellent place to host parties. The money you save from limiting your expenses can be used to improve the quality of your life and prevent it from being boring.
Arrange a Garage Sale And Get Rid of Items You No Longer Need
A minimalistic lifestyle is all about making the right choices. The first decision you need to make is to get rid of all unwanted items from your life. Whether it's the cutlery in your storeroom that you've never used or any old, outdated electronics, you need to dump them from your life immediately. A garage sale is a one-stop solution to all your clutter problems. If you've hoarded a lot of goods, you can get rid of them with a yard sale.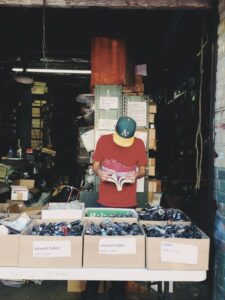 If you're finding ways to attract potential buyers to your next garage sale, you must visit Yard Sale today. We've developed a top-notch mobile application that can connect buyers and sellers looking to trade their house items. Our application is free for buyers and charges sellers a fee as low as $0.99 for posting advertisements about their yard sales.
Get in touch with us today for any queries.