Your furniture can be a defining characteristic in your space. Most people spend hours browsing through catalogs looking for the perfect piece, and then when they finally find it and head to the store, they're disappointed to learn that the furniture isn't quite what they expected.
There is no doubt that the internet has made the process of shopping easy. Manufacturers, dealers and distributors now sell their products online. Chances are you might find your furniture online.
Here are some tips on how you can find great furniture so you don't have to compromise on style or quality.
1) Investigate the Quality
Style is important, but the most important thing is the furniture's quality. If you're shopping for outdoor furniture, for example, look into the materials that are used. You don't want to wake up to scratches or dents on your new patio set. This will only make the pieces look old and used up.
You can also check reviews of furniture pieces online. Read reviews written by people who've bought the furniture before you. Reviews will let you know if certain manufacturers or brands can be trusted or not.
2) Shop Around for Styles You Like
When you have a style in mind, do your homework and see which stores have those styles at affordable prices. You don't want to buy a piece of furniture that you like only to find out later that it's too expensive for your budget.
Another tip is to be open-minded and take advantage of online shopping. Many manufacturers offer promotional or clearance sales. You can also browse through them and look at the prices and styles that you like, and then come back and buy the furniture online once it's on sale.
3) Mix And Match Colors, Shapes And Sizes
One thing that furniture companies don't seem to get right is creating styles that can be easily matched. You should have an unlimited selection to choose from so you can play around with the color palette and shapes of the pieces.
If you're going for a complete look, furniture manufacturers should also have coordinating pieces, such as lamps, side tables, chairs and other accessories.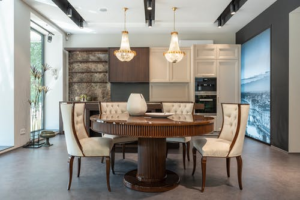 4)  Explore Your Options
Online shopping today lets you do so much more than just search for pieces. You can try out those pieces as well. After browsing through the website, you should be able to imagine how a particular piece looks in different areas of your house.
This is a great way for you to check out the look and feel of the furniture without actually going out and buying it right away. It will also let you know what other pieces and items will go well with your new purchase.
With Yard Sale, things are a lot easier. Our virtual garage sale app is an online virtual garage sale platform that helps you find neighborhood yard sales near you. Buy and sell online through our online marketplace.
Download our app now on Google Play or App Store.